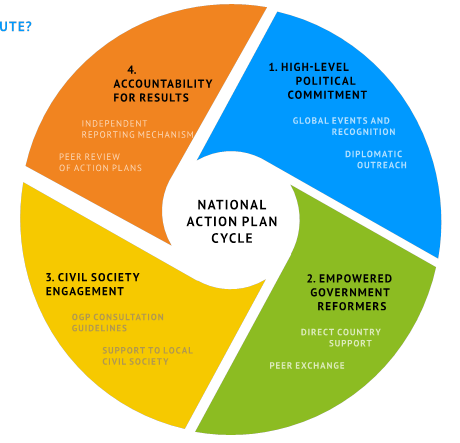 In the spirit of multi-stakeholder collaboration, OGP is overseen by a Steering Committee including representatives of governments and civil society organizations. The Committee guides the ongoing development and direction of OGP, maintaining the highest standards for the initiative and ensuring its long-term sustainability.
The OGP Support Unit, which is a small and permanent secretariat, works closely with the Committee to advance the goals of the OGP. The Support Unit serves as a neutral, third-party between governments and civil society organizations, ensuring that OGP maintains the productive balance between the two constituencies.
OGP has six thematic working groups that contribute to peer exchange and learning across the partnership, including: Access to Information, Anti-Corruption, Fiscal Openness, Legislative Openness, Open Data, Openness in Natural Resources, Open Climate.
OGP requires every participating government to engage in two forms of reporting and assessment to promote maximum accountability of its performance in living up to OGP commitments. First, governments must publish an annual Self-assessment Report after the end of each 12-month implementation cycle that assesses government performance in making progress toward achieving its open government commitments.Second, all OGP countries are subject to a bi-annual assessment by the Independent Reporting Mechanism (IRM). The IRM works primarily through independent assessment reports for each OGP participating government. Each report will assesses the development and implementation of action plans as well as progress in fulfilling open government principles at the country level.
In 2014, OGP Steering Committee adopted The Response Policy, formally known as "Policy on Upholding the Values and Principles of OGP". The Policy aims to maintain OGP's credibility – and safeguard its long-term future – by helping to ensure that all participating countries uphold OGP values and principles.
For more, please visit: Opengovpartnership.org