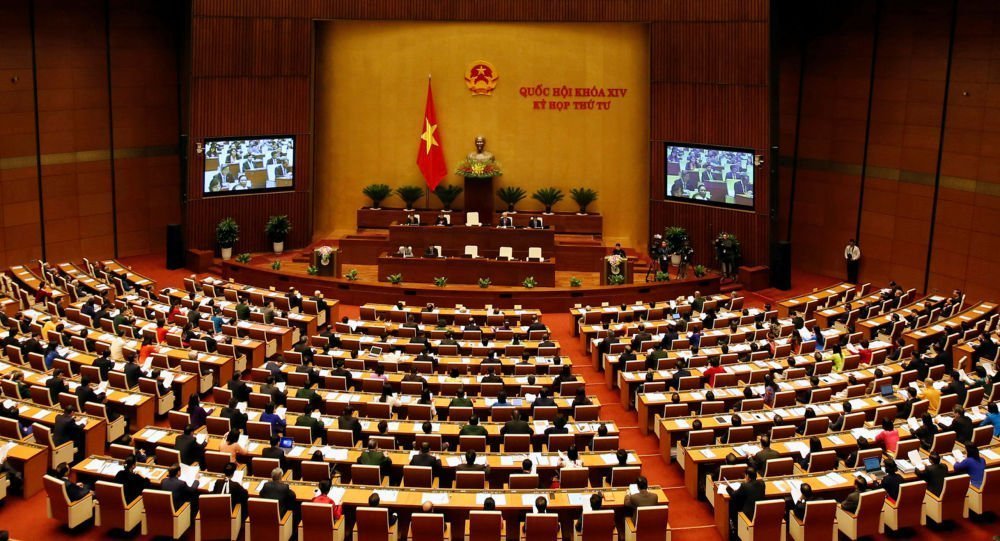 The National Assembly (NA)'s Standing Committee mulled over a Government report on thrift practice and combating wastefulness at work during its 23rd session on April 12.
The report focused on the work outcomes in 2017 related to, among other things, passing new laws, the management of the State budget, the purchasing and use of equipment belonging to State-owned organisations, and management of State capital and assets of enterprises.
It revealed that ministries and localities have been active in promoting the streamlining of staff, building e-governance, and simplifying administrative procedures.
Alongside the positive findings in the report, Finance Minister Đinh Tiến Dũng pointed out shortcomings that continue to hold back productivity and cause waste, especially with regard to the management the State budget.
The disbursement of investment capital has remained unfocused and delayed, with low efficiency, the report claimed. Examples of this are the capital allocation of the Hà Nội urban railway project No 2 (Nam Thăng Long – Trần Hưng Đạo section), and the Cát Linh – Hà Đông urban railway project. Such shortcomings waste public capital and stifle productivity.
Lawmakers agreed that the work outcomes mentioned in the 2017 report are vague, lack detailed statistics, and must be compared with those of 2016 to show changes and trends in work productivity and wasted capital.
Many ministries, localities and enterprises have delayed sending reports to the Government. According to the Government report, 15 out of 34 ministries and State agencies, alongside 17 out of 63 localities and 17 out of 23 State owned groups and corporations have not submitted reports on practicing thrift and preventing wastefulness to the Finance Ministry.
Chairman of the NA Committee for External Relations Nguyễn Văn Giàu said that the report does not mention which ministries and localities have not been active in cutting down on wastefulness.
Leaders of departments and enterprises which are not active in thrift practice and anti-waste must be held accountable, he said.
NA Judicial Committee chairwoman Lê Thị Nga agreed with the NA Financial and Budgetary Committee that thrift practice and anti-waste reports should be on the NA's discussion table for a thorough review.
Concluding the session, NA Vice Chairman Phùng Quốc Hiển said that efforts to cut back waste in 2017 were an improvement compared to that of the previous year. Efforts have been made in the enforcement of new laws and in State budget management, as well as in investment in infrastructure construction, purchasing equipment, the use of natural resources, and thrift practice among enterprises and the public.
Inspection on anti-waste efforts have also been stepped up, he said.
However, wastefulness is still being recorded in the management of public assets, finance and mobilising sources. Punishments on violations have not been promptly executed.
The chairman demanded that ministries and localities take tougher action on violations and make public any cases of wastefulness. He also commended those who are actively practising thrift.
The chairman asked the Government and the NA Financial and Budgetary Committee to update the statistics in last year's report, and urged ministries and localities to submit their own reports if they haven't.
At the end of the session, the NA Standing Committee also voted on a resolution to establish Phú Mỹ Town and its wards in southern Bà Rịa-Vũng Tàu Province, as well as Phước Cát Town of Cát Tiên District in the Central Highlands province of Lâm Đồng. All deputies present voted in favour of the resolution.
Source: VNS